Peter Seligmann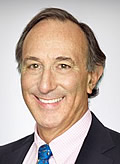 Since 1987, Peter Seligmann has been a co-founder, Chairman of the Board and Chief Executive Officer of Conservation International, one of the world's leading conservation organizations. He is one of today's most dynamic leaders in the global conservation movement. He has developed strong conservation partnerships between Conservation International and leaders in industry, science, government and entertainment, both in the United States and abroad. He continues to prove that people can live in harmony with their natural surroundings.
Seligmann began his career in 1976 at The Nature Conservancy, serving as the organization's western region land steward. He later became director of the California Nature Conservancy.
Seligmann holds a masters degree from Yale University's School of Forestry and Environmental Science and an honorary Doctorate in Science from Michigan State University.
Seligmann serves on the board of the Wild Salmon Center in Portland, Oregon, and the Mayor's Environmental Council in Washington, D.C. He also serves on several corporate boards, as well as on the advisory councils of the Jackson Hole Land Trust, Ecotrust and other not-for-profit organizations, including the Japanese Keidanren's Nature Conservation Fund. In 2000, President Clinton named him a member of the Enterprise for the Americas Board. 


In 2000, Conservation International launched the Critical Ecosystem Partnership Fund in collaboration with the World Bank and the MacArthur Foundation.
Honors
Awarded the Order of the Golden Ark from the Netherlands, 2001
Return to Board Members Index