Omar Masera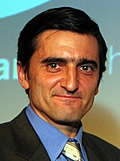 Omar Masera is a visiting scholar at the Energy and Resources Group funded through the University of California Institute for Mexico and the United States (UCMEXUS) Program. He is a physicist with expertise in interdisciplinary research related to renewable energy, sustainability, technology and climate change.
Dr. Masera obtained his Masters and PhD. at the Energy and Resources Group, UC Berkeley in the area of rural energy. He is full professor at the Centro de Investigaciones en Ecosistemas, Universidad Nacional Autónoma de México (UNAM) where he is also Director of the Bioenergy Laboratory. He is a member of the International Panel on Climate Change (IPCC) since 1997 and also currently the President of the Mexican Bioenergy Network (REMIO). Dr. Masera leads the "Patsari Cookstove Project" in Mexico, an interdisciplinary and international collaborative approach directed to the development and dissemination of sustainable alternatives for rural cooking in Mexico, which has obtained national and international recognition.
Dr. Masera has published 5 books, more than 140 peer reviewed publications, and several research reports addressing bioenergy, the role of forests in global climate change, future energy and forestry scenarios, sustainability of technological change in rural areas, and other topics. He has developed technologies for the efficient use of biomass in rural households. Dr. Masera has also developed models to estimate the environmental impacts of biomass use in developing countries (WISDOM), to model carbon sequestration and mitigation (CO2fix), and to conduct sustainability assessments (MESMIS). His field of work is in energy and natural resources, global climate change, and sustainability. He focuses on developing the theoretical and conceptual framework of MESMIS, emphasizing on the multidimensional aspects of the framework.
He has been consultant and advisor to major international organizations such as FAO, the United Nations Framework Convention for Climate Change (UNFCCC), UNDP, and others.
Honors:
National Research Award for young scientists of the Mexican Academy of Sciences, 2000
Nobel Peace Price as a member of IPCC, 2007
Ashden Awards to Sustainable Energy, 2006
Return to Board Members Index